In the 21st century, having a high-quality proxy service is a crucial element for many companies and enterprises so far. Proxy networks are providing their users with the ability to change and reroute their IP addresses and achieve significant advantages over its competitors.
If you are new to proxy networks, you might find it challenging to choose the right provider that meets your specific needs and use cases.
To help you choose from the massive list of proxy providers, In this  NetNut Review I presented the points you should know in order to help you make the right choice.
Honest NetNut Review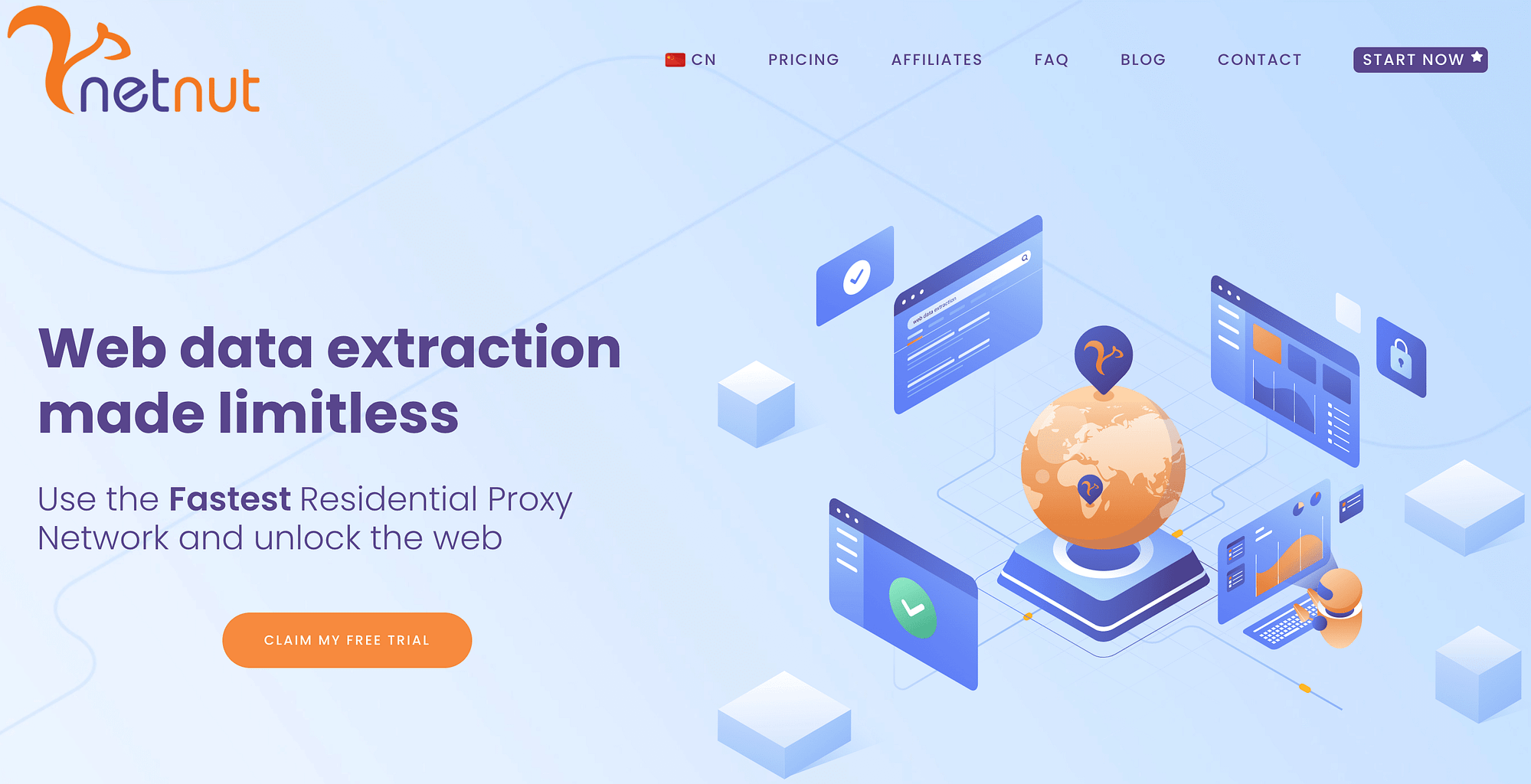 NetNut is known for its fast proxy service and network uptime due to direct ISP connectivity (hence, "one-hop connection"), and that is what placing NetNut's proxy network is one step above their competitors regarding speed as well as minimum blocks or down-time.
Proxy networks with direct ISP connections are definitely a better option.
Instead of connecting to an end-user device, a direct ISP connection guarantees that you receive your IPs from a trusted residential device originating directly from the ISPs with one-hop connectivity.
Why NetNut?
NetNut is providing fast service and complete security for its users, with less than 0.01% downtime and a 24/7 IP availability due to its direct ISP connectivity.
NetNt has 5 million Residential IPs, the proxies provided by them are high-quality and anonymous, and with advanced network architecture, it's nearly impossible to tell if you are using a proxy or not, due to the rotating and static residential IP pool coming directly from global ISPs and being managed by NetNut.
NetNut residential proxy network is transparently performing load balancing actions to connect you to the destination URL with success.
Combine that with an account manager to help make the best use of your use case for their proxies, 24/7 customer support via Live Chat, tickets support, and even over-the-phone support.
NetNut Residential Proxy Network can manage massive amounts of GB/sec of network traffic, due to the unique positions and locations of DiViNetworks' existing data delivery and network management solutions.
DiviNetworks is a world leader in the data delivery network field; with the right architecture on your side, you can achieve a failure rate of less than 0.01%.
NetNut's Residential Proxy Network Features
Static/Sticky IP:

Use a unique identifier and define a static/sticky IP address.

Search Engine-Proof:

NetNut's Residential proxies can easily support all search engine bots and crawlers.

IP Whitelisting:

Contact your account manager to set up IP whitelisting.

Optimized IPs:

Fully optimized proxy pools for target sites will be provided to ensure maximum speed and high success rates.

IP Rotation:

NetNut is providing a unique IP per each browser session, which can be targeted and integrated directly into any web browser.

Stats API:

Along with the dashboard access, all usage statistics are available in near-real-time for retrieval via a simple API.

Optimal Latency:

NetNuts exit nodes are located in major internet exchanges and data hubs, providing users less than 500ms latency from target websites.

A Real-Time Table:

In addition to proxies provided by NetNut, an account for Traffic Data Analysis and Reporting will allow you to view current statistics in real-time, including the total bandwidth and statistics about requests, and using country account information.

Authentications:

NetNut allows users to authenticate up to 10 different IP addresses or by username and password, a high number compared to the proxy provider in the market.

Anonymity:

NetNut disables all headers so you can replace users' IP addresses with your own build for a more secure connection.

Standard IP Updater:

NetNut ensures that all proxies are exchanged once per billing cycle when the client requests it entirely for free.

NetNut's Chrome Extension:

Unlock the web using NetNut's Chrome Extension without having to go through proxy integration. Easily target any country and choose static or rotating residential proxies right from your browser.
NetNut's Residential Proxy Network Use Cases
Web Scraping/Data Extraction
SEO Monitoring/Tracking
Competitive Intelligence & Market Research
Ad Verification
Market Research
Social Media Management (SMM)
Price Comparison
eCommerce
Sales Intelligence
Pricing and Plans
NetNut's pricing plans include a number of bandwidth-based plans and prices are subject to change according to your traffic volume. You can also choose an option for their custom plan.
Residential proxies pricing starts from $15/GB and changes to $3.5/GB, according to the user's bandwidth usage.
Support
NetNut assigns an account manager to you, NetNut has both live chat and email support. Both channels were very fast, responsive, and had on-point assistance.
We've asked them a few technical questions regarding proxy integrating and whitelisting, and they answered us really quickly and were very friendly and helpful.
That is definitely something to give credit for.
NetNut Free Trial
While most providers offer a 48–72 hours test, NetNut offers all her users with a free 7-day trial, to better understand the users' case and help make the best of it.
Final Recommendation
With all of that in mind, "would I recommend it?", "YES."
NetNut provides a valuable service with an obvious advantage over its competitors and is surely becoming a leader in bringing innovation into proxy networks.
Their proxies perform very well for SEO tracking, web scraping/data aggregation, and market research.
I have used NetNut for quite some time now. Within that time frame, my experience was excellent, with higher-than-expected customer satisfaction.
NetNut has some pretty good user feedback for their proxy service. 
On top of that, they offer proxies at a very competitive rate, which is a great deal for home users and small businesses, aside from prominent organizations and corporates that could also benefit using their network.
Their main advantage, which is the direct ISP connectivity, plays a crucial role in matters such as speed, anonymity, and, most importantly, a better and much-secured connection.
Definitely a value-for-money.
Get your 7-day free trial
and start exploring the possibilities of having a residential proxy network with direct connectivity to worldwide ISPs.