With so many tools on the market to monitor, improve, and ​grow your business on Amazon, it's easy to feel overwhelmed. Countless hours can be spent researching every tool and comparing features, trying to determine which is the best fit for your business. But while there are numerous specialized tools on the market, if you want one answer for the best all-in-one tool, ​Sellics is the best choice!
Sellics is the best amazon seller software and an All-in-One bundle of amazon seller tools to help you ​optimize rankings, ​increase organic traffic, automate PPC campaigns,​ monitor competitors, manage reviews, track profits, and more!
Simply put, Sellics is an absolute powerhouse of software that can really boost your success on Amazon.
Let's dive deeper into the Sellics Review to know what it has to offer.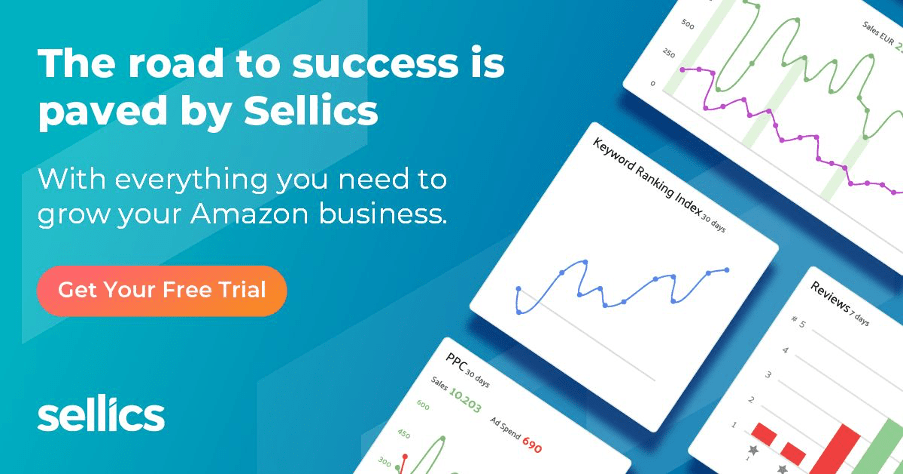 What is Sellics?
Sellics is the leading eCommerce growth software used by thousands of brands and agencies to succeed on Amazon. Sellics' vision is a smart and integrated All-In-One solution that uses holistic optimization across all of Amazon business' key performance metrics. Clients including Bosch and Brita use the AI-based software to drive sales and market share on Amazon, which is supported by predictive insights and automation – based on cutting edge machine-learning algorithms.
Which major brands are currently using Sellics?
Bosch, Brita, L​ 'Oréal, Jabra, BeekeeperMarketing, Staedtler, WMF, and thousands more!
Why Choose Sellics?
The majority of users consider Sellics to be the most efficient software for the timely resolution of market challenges and practical implementation of marketing initiatives. Whether you're new on the scene looking to kick off your Amazon journey, or an experienced Seller looking for more advanced analytics to give you an edge on the competition, every Amazon business will find utility in this powerful tool.
The software is packed with must-have features and tools that promise to help Amazon sellers, vendors, and agencies to become even more successful on Amazon.
Sellics is powered by a user-friendly interface, making it easy to understand and manage. And, Sellics is serious about data protection and privacy, upholding the industry's highest standards. Taking only the information needed to manage your account from the Marketplace Web Service (Amazon MWS) API, your information is kept completely secure and does not risk being shared – with Amazon or any third party.
In a nutshell, Sellics offers to:
Fully optimize and automate your PPC campaigns and monitor your budget
Increase sales by improving your product rankings with highly-competitive search terms
Provide​ powerful listing analytics and optimization insights
Variable pricing model based on your business volume
Modules/Features
Speaking of must-have features, Sellics offers five modules for the most comprehensive, bird's eye view of your business. And because Sellics integrates directly with your Seller Central account, you are able to analyze every aspect of your business in one place, giving you a complete overview of your performance with the option to automate aspects.
1. PROFIT DASHBOARD
This first module gives you real-time data so you can track your profit analytics.
The module automatically deducts your Amazon fees, shipping (i.e. FBA), PPC fees, promos, taxes, and cost of goods, giving you a fully automated calculation of your ​actual profit on Amazon.
2. PPC Manager
This feature helps you save time and automate your PPC campaigns so you can maximize your Amazon PPC revenue. This way you can focus on campaign profitability and achieving a higher return on ad spend (ROAS).
You can also analyze your campaign performance. It tracks your Sponsored Ads performance for any given period, allowing you to see exactly which changes positively affected your campaign results.
Optimize results for profit: You can optimize CPC bids for profit to make smarter decisions with historical data that is not available in Seller Central.
Another benefit with this feature is that you won't have to perform all of the usual time-intensive tasks such as migrating high-performing keywords from one campaign to another or manually add underperforming keywords to a negative keyword list. This is a HUGE timesaver and can save you a lot of headaches when setting up new campaigns.
Other heavy-lifting tasks that the PPC tool can do for you:
Automatically increases keyword bid (when ACoS is low)
Automatically lowers keyword bid (when ACoS is high)
Automatically pauses keyword (when a keyword is unprofitable)
With all of these analytics in front of you, you can review all your past campaign adjustments in one place to get a full understanding of what is working (and what is not) to best maximize your ad performance.
On the S​ellics YouTube channel​, you can find tutorials to quickly get started with Sellics, with content for each module organized into each playlist for simple navigation of information.
4. AMAZON RANKING OPTIMIZER
90% of customers will make their purchase on Pages 1-3 of Amazon search results. If your product is not visible here, you will lose the bulk of your sales.
Amazon Keyword Research & Ranking Optimization: Create Listings That Convert and Benchmark Against Your Competitors
Step 1: Research Amazon Keywords
Take the guesswork out of what customers are searching for on Amazon. Find winning, high-volume keywords to turbocharge your campaigns.
Step 2: Optimize Product Listings
See immediately which product listings need improvement, and fill in the content gaps using our listing optimizer.
Step 3: Track Your Keyword Rankings
Monitor your keyword rankings and see how your optimization efforts affect your rankings over time.
5. REVIEW MANAGEMENT
Negative reviews can seriously compromise conversions and rank. Sellers should react as fast as possible to negative feedback to reduce the damage.
Review management notifies you instantly of new reviews you receive on Amazon. You can sort your reviews by their impact on your average star rating, and prioritize your response rate accordingly. ​It only takes one click to connect your Seller Central account in your Profit Dashboard. Sellics will automatically calculate all your Amazon costs for you, and you can also input the cost of goods for more precise results.
6. INVENTORY MANAGEMENT
Lead Time: Upload the lead time for each of your products. Sellics will automatically calculate the perfect reorder date for each product and you'll have complete inventory control so you know exactly when you'll run out of stock based on your recent sales velocity.
Reorder Pipeline​: Placing a reorder is more than just a phone call. It requires both financial and personnel resources. Easily keep an overview of your 90-day reorders pipeline to plan your resources accordingly.
Pricing
Currently, Sellics offers three All-in-One Editions (and one standalone Advertising module). Included below is the pricing for the All-in-One bundles. Choose your edition based on the type of Amazon service you would be or are currently linked with.
1. Seller Edition
Check out the ​Sellics Seller Edition Pricing and select the number of Annual Sales on Amazon to see your specific pricing model.
For instance, if your annual sales on Amazon are between 1k -60k, this is the pricing formula:
Now, if your annual sales on Amazon are between 60k and 240k, then this is how much you will pay for a Sellics account.
2. Vendor Edition
This one is pretty simple. Depending on which modules you need to be successful on Amazon, you'll find different prices:
3. Agency Edition
You get all the features and tools you need to grow your clients' brand, increase their sales, and optimize their digital footprint. The pricing model here is based on your exact needs. For that, you have an onboarding call where you get to find out the pricing.
A big (and sometimes make-it or break-it perk) is the convenient pricing policy. Unlike other fixed-price software, the Sellics pricing is flexible, based on the performance of your business and on what you need to grow your business.
What's more, you only pay for the modules you need and ​actually use.​
It's possible to test all the available features free of charge for 14 days (no credit card required)
before buying a plan. Sellics suggests testing its rank optimization tool using two products.
The Verdict
Sellics is no doubt the go-to source for success on Amazon because it gathers all the analytics you need to profitably sell on Amazon and offers full integration of each tool. Again, it's a total powerhouse!
If you need an analytics dashboard that offers insight into your ​real profit incorporating features that offer both convenience and enhanced performance such as a ranking tracker and PPC manager, Sellics is your best bet for amazon seller software. It solidly wins in a comparison with Helium10/Teikametrics simply because:
It has accurate data
All of the tools are in one place – you don't even need to check your Seller Central Account anymore!
The price is suitable for businesses in every industry
It has great UI and top-notch customer service
It cannot even be compared with Helium10 or JungleScout simply because it offers much more – it is another level of software!
We hope this Sellics Review was helpful for you.
Also Read: Writers Work Review – Is it worth it?